The point where two or more bones meet and connect via cartilage is known as a joint. The body's major joints are the hips, knees, shoulders, elbows, and ankles.
A damaged joint may be unable to move completely and can be very painful. This can prevent you from doing your regular activities or restrict it, mainly if the pain is persistent or chronic.
The joint should be preserved for as long as possible, regardless of the cause. This is especially valid if the patient is a young, physically active individual.
Dr. Dilip Mehta, an experienced and reputed orthopedic surgeon in Jaipur, strives to preserve the joint's natural biology by regaining normal structure and function. He applies various cutting-edge repair, restoration, or reconstruction techniques to accomplish this.
A joint may get damaged suddenly or gradually over time. Joint damage may result from an injury to the joint cartilage, trauma-induced bone dislocation, normal wear and tear of the joints, degenerative diseases like arthritis, or inherited abnormalities in the joint. Sports activities also push a joint's range of motion to its absolute limit. A wound impairs the joint's ability to function.
The key to returning to one's sport at a pre-injury level is an accurate, comprehensive diagnosis of the cause of dysfunction, selecting the appropriate treatment option, and executing an expertized management plan.
A need for artificial joint replacement may result from untreated joint conditions. By addressing the problems as soon as possible and utilizing the most advanced joint preservation techniques, Dr. Dilip Mehta aims to prevent the need for joint replacement in Jaipur.
A damaged joint is surgically removed (completely or partially) and replaced with a prosthesis in a joint replacement. However, the prostheses are typically very prone to wear and tear and eventually need replacement, especially in young, active patients or athletes.
In such circumstances, joint preservation through surgery can aid in preventing joint deterioration or delaying the onset of specific degenerative conditions like osteoarthritis that affect the joint. This will prevent further joint damage and allow the patient to resume normal activities.
Older people who are physically active and young athletes may not always be candidates for joint replacement surgery. Losing the joint's natural biology can limit activities and functions.
Therefore, Dr. Dilip Mehta believes in promoting joint preservation surgery in Jaipur as the best choice whenever possible. These procedures aid in preserving a joint's natural structure and return it to its normal, pain-free function.
To know more about joint preservation surgery, read this informative article.
Let's begin by knowing,
What is Joint Preservation Surgery?
It is an orthopedic procedure to preserve and repair a painful and deteriorating joint. It involves correcting anatomic abnormalities of the joint, restoring normal joint motion without needing replacement, and maintaining the cartilage and bone health of the joint.
Although any joint in the body can undergo the procedure, the knee, shoulder, and hip joints are the most frequently treated ones.
Candidates for Joint Preservation Surgery
Even though joint pain is common in adults and adolescents, patients in their early to mid-teens are the most suitable candidates for the surgery.
If you experience any of the following, you may be a potential candidate for a joint preservation surgery:
Deformity of the joint's cartilage
Constant and worsening joint pain
Difficulty in performing daily tasks
Pain following an arthroscopy procedure and/or previous joint replacement
Why Would You Require Joint Preservation Surgery?
In most cases, joint preservation is necessary to address the issues brought on by osteoarthritis.
Joint preservation can aid in pain relief even though it won't be able to treat arthritis.
Patients who only experience joint pain in specific joint regions and the entire joint have a higher success rate with joint preservation.
Those who had tried non-surgical options without success would be offered this form of treatment.
Let's discuss,
Procedure of Joint Preservation Surgery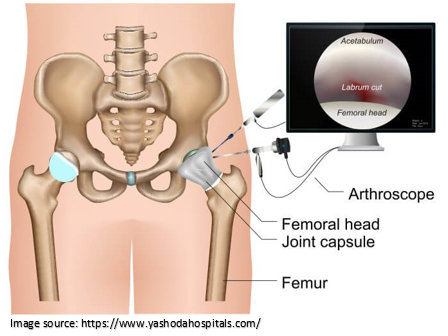 A combination of the two techniques, arthroscopic surgery or open surgery, may be used for joint preservation. However, surgeons most frequently use arthroscopy alone for joint preservation.
During arthroscopy, the surgeon inserts a tool called an arthroscope into the injured joint. This is also known as keyhole or minimally invasive surgery. It allows the surgeon to examine the joint and perform necessary repairs simultaneously.
This procedure treats various joint conditions and is carried out through tiny incisions.
In joint preservation surgery, only one or two portions of the joint are typically repaired.
The range of the procedure may include:
Cartilage repair or restoration.
Joint resurfacing or reconstruction.
Bone alteration or realignment.
Transplantation or implantation.
Partial joint replacement.
Different joint preservation procedures may be performed depending on the patient's needs.
Based on the affected joint, the type of injury or disorder, the severity of the condition, and the patient's age, the surgeon will discuss and select the best option.
Post-operative Care
Following surgery, the patient will typically need to work with a physiotherapist to get the best results from joint preservation surgery.
Proper rehabilitation through physiotherapy is imperative to achieve the best results from this surgery.
The patients may have to deal with a recurrence of scarring, muscle atrophy, and stiffness if they don't participate in physiotherapy.
Recovery After Surgery
After the procedure, a customized physiotherapy regimen may be advised until the affected joint can move normally again.
The average hospital stays for patients following joint preservation surgery is 2 to 4 days. Crutches are required for up to 6 weeks after that.
After two weeks, specific movements can be used to regain range of motion and muscle strength.
After surgery, intense physical activity can be resumed four to six months later.
Let's look at the,
Benefits of Joint Preservation Surgery
Minimally invasive (mostly performed using the arthroscopic "keyhole" technique)
Minimal scarring and bleeding
Shorter hospital stays and quicker recovery
Reduces or prevents future joint cartilage damage
Relieves joint pain
Enhances or restores joint function
Prevents or minimizes further joint degeneration
Extends the life of the joint
Postpones or prevents joint replacement surgery
Restores productivity and quality of life
Lowers the long-term cost of medical care
Risks Associated with Joint Preservation Surgery
Infection, blood clots, and nerve damage are risks of any surgical procedure. However, compared to the risks of joint replacement surgery, the risks of joint preservation surgery are significantly lower.
Contraindications for Joint Preservation Surgery
Patients with advanced arthritis (joint inflammation) are not advised to undergo joint preservation surgery.
The disease must be in its early stages for the best surgical results.
In recent years, joint preservation and restoration techniques have made it possible for people to delay joint replacement surgery.
Discuss the best options and long-term plans with your doctor, and be aware of the options available for your particular issue. The foundation of the best relationship for you is preserving your joints, activities, and lifestyle.